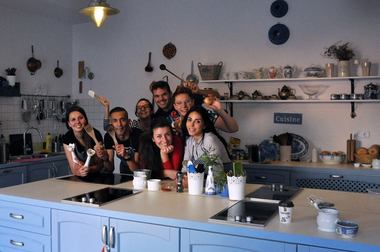 Vision
The vision of Taste of Home is a colorful world embraced in hospitality.
Mission
The mission of the Taste of Homeis economic emancipation of refugees and persons with migrant background through the culinary and cultural exchange. The collective is led by values of appreciating human beings and their needs. Taste of Home gathers people in search of happiness and safety ready to offer the best of them; tastes of their childhood and youthhood as well as tastes of their adulthood in the new society. Our resources are tastes of Middle-Eastern, Arabic, African and Asian cuisine (rather unrepresented in Zagreb).
Collective 'Taste of Home' now gathers 30 people, while 16 co-founded the cooperative. While it gathers a broad range of asylum seekers and refugees and collects personal memories and refugee experience, it is mainly focused on the development of a cooperative that emancipates refugees and migrants both as a reality for some and a sustainable model for others.
Taste of Home cooperative is the first social enterprise of it's kind in Croatia. It is a social business primarily based on support, solidarity and knowledge/experience exchange.
Strategic goal
The goal of Taste of Home is to push economic emancipation of the refugees and other migrants by using their knowledge, skills and earlier experience while sensitizing environment/society on needs of others and different ones.
History
Taste of Home started as a culinary-cultural-research project of the Centre for Peace Studies introducing the culture, customs and countries of origin of refugees and migrants in Croatia by recording their memories of home smell and tastes of their cuisine. This was an experiment in sharing life stories and culinary skills of refugees and people from Croatia. Tastes of home have been investigated and recorded over several years and finally were published in the end of 2014 as a book of personal stories and recipes as well as in the documentary movie Taste of Home in 2015.
By preparing the food they grew up with, refugees evoke memories and create new friendships and experiences in their new home. Those connections were built mainly through culinary workshops and food festivals organized in local neighborhoods and Croatian towns. At the same time, refugees were building on skills that would eventually help them find employment and integrate in the new society. With years, Taste of Home has come to the establishment of the social cooperative.
Taste of Home as a social enterprise was officially kicked off through a crowdfunding campaign which helped to raise funds for establishing a social cooperative. After almost $20.000 of raised funds, Taste of Home started off a catering business specialized in African, Arabic, Asian and Middle Eastern cuisine and culinary exchange projects (cookbooks, cooking courses and workshops, public dinners and show kitchens).